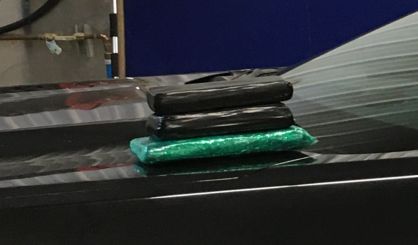 Michigan State Police have made a major drug seizure in Van Buren County. MSP Sergeant Jose Patino out of Paw Paw tells us troopers pulled over an eastbound vehicle on I-94 Thursday and found three kilos of fentanyl, a dangerous drug that's often added to heroin. Patino says the trooper noticed the driver break several traffic rules, and then got suspicious when speaking to the driver and his passenger. Troopers asked for permission to search the vehicle.
"Troopers got to the rear of the car, and noticed that the panels on the rear were all damaged," Patino said. "It looked like they had been taken off several times."
That's when they found the packages of fentanyl. Patino says it was about $300,000 worth.
"Our lab and our people are telling us that a tenth of a gram is what's considered deadly, a deadly dosage. So, it was about three million dosages of fentanyl."
Patino says the driver of the vehicle works for a drug cartel out of California. That driver didn't know exactly to whom he was taking the drugs, just a drug trafficker in Detroit. The 23-year-old is now in the Van Buren County Jail.