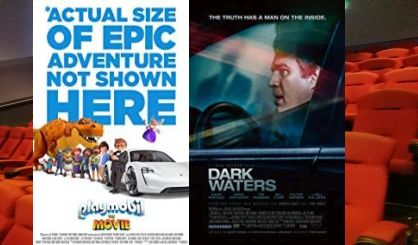 Flick pick is a podcast about movies. In today's episode, Jacob Holmes and Andrew Green discuss the new movies playing this weekend in Benton Harbor. We've got two new releases. First up is Dark Water, starring Mark Ruffalo as a corporate attorney who tries to expose a chemical company's contamination of a water supply. Could be good.
Also new is Playmobil: The Movie. It's an animated film that for some reason is opening while Frozen 2 is still out. Jacob will explain this one to us.
Jacob and Andrew will also talk about movies they have most recently seen. For Andrew, it's The Irishman.
Scroll down and click the Play icon to listen to this exciting edition o Flick Pick!
Click here to listen to additional episodes of Flick Pick.
Podcast: Play in new window | Download | Embed
Subscribe: Apple Podcasts | Android | Email | Google Podcasts | Stitcher | Spotify | RSS | More