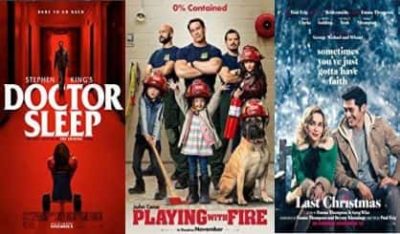 Flick Pick is a podcast about movies. In today's episode, Jacob Holmes and Andrew Green discuss the new movies playing this weekend in Benton Harbor.
First up is the latest Stephen King adaptation, Doctor Sleep. It's the sequel to The Shining. Andrew is excited, as he just read Doctor Sleep this year. Jacob will also be there.
Up next is Last Christmas. It's a Christmas-related romantic comedy.
Third is Midway. This is a Roland Emmerich-directed film about the World War II Battle of Midway. It's Roland Emmerich (Independence Day, The Day After Tomorrow), so it will probably be a wide-ranging spectacle featuring a large number of famous actors.
Finally, we've got Playing with fire. It's a comedy about some wacky firefighters starring John Cena.
Andrew and Jacob will also discuss the movies they have most recently seen. For Jacob, it's Maleficent: Mistress of Evil, and for Andrew it's Terminator: Dark Fate and Black and Blue.
Scroll down and click the Play icon to listen to this exciting edition of Flick Pick!
Click here to listen to additional episodes of Flick Pick.
Podcast: Play in new window | Download | Embed
Subscribe: Apple Podcasts | Android | Email | Google Podcasts | Stitcher | Spotify | RSS | More