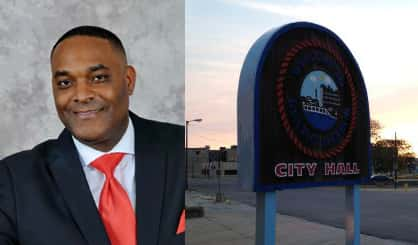 Marcus Muhammad has been reelected mayor of Benton Harbor. With results in from the Berrien County Clerk's office, Muhammad beat challenger Ron Singleton Tuesday, 612 to 521. Muhammad spoke to the community via Facebook from his celebration.
"I'm thankful to the residents and voters for trusting me with another four years to guide this city and continue to build on the foundation that has been laid, and I'm grateful, I'm humbled."
Muhammad congratulated Singleton on a hard-fought race. Elected as city commissioners in Benton Harbor for at-large seats are incumbents Mary Alice Adams and Edward Isom. They edged out challenger Jennifer Nesbitt. New to the Benton Harbor City Commission is Jerry Edwards in Ward 2. He had faced one opponent who mounted a write-in campaign. Also reelected is Sharon Henderson as city commissioner in Ward 1. She had no opponent.