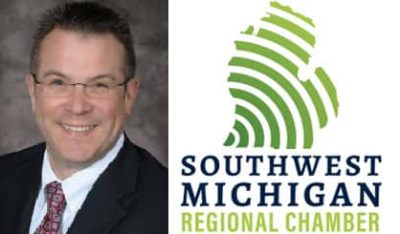 There is no official word as yet, but sources confirm to WSJM News that there is a change coming at the top of the Southwest Michigan Regional Chamber. The board of directors plans to issue a statement after this morning's board meeting, but we've learned Chris Heugel is out as Chamber president. He had been at the helm since August 2015 of what had been previously known as the Cornerstone Chamber of Commerce before the organization changed its name in recent months, helping to avoid confusion with the economic development outfit, Cornerstone Alliance. Prior to that hire, he was the general manager of The Boulevard Inn & Bistro in St. Joseph for just over seven and a half years. The reason for the split between Heugel and the Chamber is not yet known.
Heugel is currently a member of the Berrien County Board of Commissioners, elected to represent the 6th district, which includes Sodus and Royalton townships and portions of Lincoln Charter Township and St. Joseph Township. He was elected to the county board after a move out of the city of St. Joseph forced him to step down from the St. Joseph City Commission.
WSJM News has reached out to Heugel for comment, to no avail. A Chamber board member will only say an official announcement will be released on Tuesday.