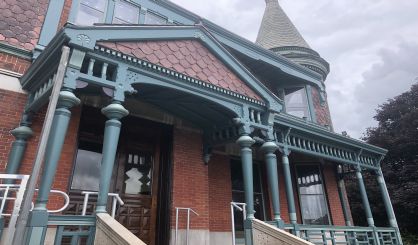 A grand reopening of the historic Chapin Mansion in Niles will be held next week now that a rehabilitation project for the landmark is complete. Niles History Center Director Christina Arseneau tells WSJM News improvements have been planned at the site for about three years, and now they're ready to reopen it to everyone.
"The project as a complete rehab of the porch, which is in the front of the building, the upper balcony, and then through the project we were also able to add an ADA-compliant accessibility ramp," Arseneau said.
The work cost a total of $280,000, which Arseneau says came from state grants, federal sources, and local donations.
"Really, it was a great community effort that brought a diversity of funds that were used for the project."
The Chapin Museum was built by Henry and Ruby Chapin in 1882. In the 1930s, it was donated to the city by the Chapin family, and was used as Niles City Hall for decades, until 2012. With the improvements done, Arseneau says they'll now offer Friday and Saturday tours. The grand reopening will be next Tuesday starting at 6 p.m. It will include remarks by Niles Mayor Nick Shelton and state Representative Brad Paquette.