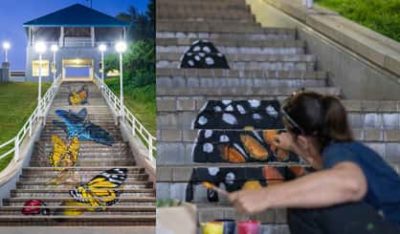 It's a hit. That's the feeling regarding the butterfly mural painted on the steps leading up the bluff to downtown St. Joseph this summer. The work was commissioned by St. Joseph Today with the city's approval, and executive director Amy Zapal explained the thought process behind the mural to the city commission on Monday.
"It expands the footprint of our downtown," said Zapal. "So rather than being just the 300 block and just State and Broad, our downtown begins to expand a little bit."
Zapal says if you walk toward Silver Beach and the railroad tracks, you'll get a terrific view of the mural.
"There's a great spot right past the tracks where you get the full effect of the 3-D butterflies."
In written comments to the commission, City Manager John Hodgson notes the city has received a lot of positive feedback about the new look, and adds someone going down the stairs has no idea they're in the middle of a work of art until they turn around at the bottom.
Photos courtesy of St. Joseph Today.