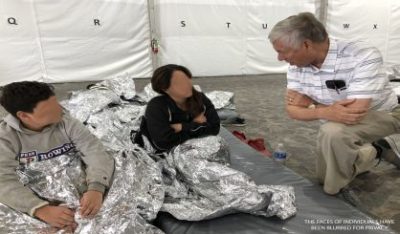 A delegation of 16 members of Congress that traveled to the southern U.S. border last week returned on Saturday, and among those to go was Congressman Fred Upton. He spoke to Michigan's Big Show on Monday and said the visit to McAllen, Texas took him and other members of the Problem Solvers Caucus to a border crossing point, and to a detention facility for migrants. He said the $4.5 billion approved by Congress last month for the border may have been a lot, but…
"Remember just this one place where we were, McAllen, they have had an increase of more than 100,000 people from last year that have crossed the border there, and for our border patrol that are taking care of these people, they're trained in law enforcement, and all of the sudden now they've go to care for infants, for kids."
Upton says seeing the scope of the border crisis has made the Problem Solvers group all the more convinced serious action must be taken by Congress.
"We came away driven to work on principles that we need to work on knowing that the situation there is only going to get worse, and try to come up with and establish a legislative strategy that can actually fix the problem because we know that it's only going to get worse."
Upton says the detention facility he visited took in a thousand people just that day. He told us recently that the border crisis is going to require a comprehensive approach that also looks at root causes in the home nations of many of the people being detained.
Upton issued the following statement on Saturday:
"Today's visit to the southern border was incredibly sobering, and the border crisis will only get worse by doing nothing. I have heard from countless folks at home that one of their number one concerns is immigration. They want our border secure, they care about our nation's security, and they are deeply concerned about the humanitarian crisis that is overwhelming our broken immigration system. The Problem Solvers Caucus went down to the southern border today as part of a fact-finding mission. We wanted to see firsthand the challenges our border patrol agents are facing and hear from them directly about what work still needs to be done. The folks I traveled with today have some good suggestions about how we can address the crisis and secure our borders. We are committed to working together on finding a solution that makes up for the failures of the past."