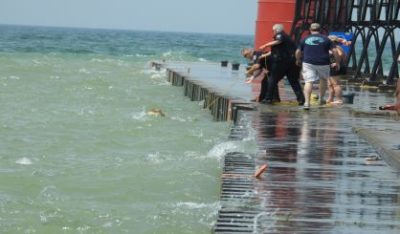 It's tempting to go for a swim in Lake Michigan with today's hot weather, but officials say that isn't the best idea. The National Weather Service Friday strongly advised against going in the lake all along west Michigan from Ludington south to Saugatuck. There have been reports of waves as high as four to five feet in the Grand Haven area.
In South Haven, part of South Beach was closed following a couple of water rescues. South Haven Area Emergency Services tells us Chief Ron Wise rescued an 18-year-old man after he got caught in rip tides along the South Pier. Wise was first on scene and jumped into the water to reach the man with a life ring. South Haven police officers then pulled both men to safety. The victim was exhausted, but did not require medical attention.
About a half hour later, another swimmer in distress was brought back to shore by a citizen.
Red flags were posted at the beach. In Berrien County, Silver Beach County Park in St. Joseph told us they had the red flags up earlier in the day, but they were switched to yellow in the early afternoon.
Photo courtesy of South Haven Area Emergency Services.