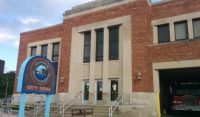 The future of Benton Harbor City Manager Darwin Watson is in question. That's after the Benton Harbor City Commission on Monday tabled a motion that effectively would have fired him. Following a closed session, Commissioner Juanita Henry proposed the motion to no longer accept Watson's employment.
"The city manager is at the will and at the pleasure of the commission, and there's no pleasure anymore with his services," Henry said.
Mayor Marcus Muhammad noted there's currently no assistant city manager, saying the body can't just drop the manager without a plan.
"To ask the city manager to clean out his office tonight with nobody to manage this city is reckless, is irresponsible, it's a return to the old rigmarole that sunk this city into emergency management."
Mayor Pro Tem Duane Seats proposed tabling Henry's motion until a special meeting on the question of city management can be held. His motion was approved with that special meeting now set for next Monday at 7 p.m. Voting no on postponing the matter were Commissioners Henry and Mary Alice Adams.