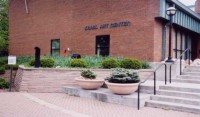 Taking place this weekend is the 58th annual Krasl Art Fair along the bluff in St. Joseph. Krasl Art Center Marketing Manager Matthew Bizoe tells WSJM News everything started Friday with the block party. Saturday brings the start of the art fair at 10 a.m. Bizoe says around 200 artists from across the continent will be on hand selling all kinds of arts and crafts.
"We have an artist from Mexico and from Canada this year, and then otherwise we've got artists from all over the country coming into St. Joe that weekend.
The art fair runs through 6 p.m. today, and then continues from 10 a.m. to 5 p.m. tomorrow. Around 50,000 people attended last year. To help with parking, Bizoe says you can take a shuttle down to the fair from Kelly's Bowl to the Edgewater Bank parking lot all day. You can find out more about the Krasl Art Fair right here.