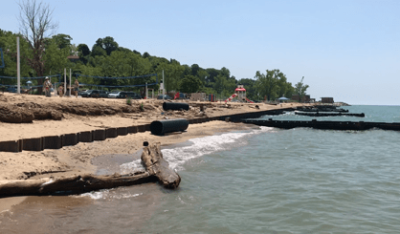 Work will begin soon to restore some land along the lake shore just north of Lions Park Beach.
At this week's St. Joseph City Commission meeting, Merritt Midwest's John Olson requested permission from the city for emergency repairs that will require a license and access to city property to reach the washed-out beach that took a beating during last week's storm. Olson was representing a homeowner on Lions Park Drive, and said waves in January eroded the unprotected area between the city's seawall and the home.
The commission granted the approval, and Olson, the homeowners, and city staff will also work on a long-term fix. Sand or coarser gravel will be placed along the lake shore above the high water mark in the eroded area at the north end of Lions Park Beach, including in the Fourth Street right of way.