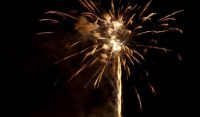 There are new restrictions on the use of fireworks in the city of South Haven. City Manager Brian Dissette talked to us about the changes to the ordinance passed by the city council this week.
"It effectively limits when commercial grade fireworks can be fired legally in the city of South Haven," says Dissette. "The city council took action to further restrict down to 11:45 p.m. when fireworks can be legally fired."
If you get caught firing commercial grade fireworks after 11:45, you could receive a ticket with a fine up to $1000 or get a warning that will be at the police officers discretion. This ordinance amendment went into effect immediately. Full details will be on the city's website and sellers of commercial fireworks will be notified.