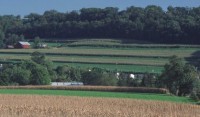 The spring rains this year have made it the wettest planting season for Michigan farmers in recent memory. That's according to Michigan University Extension's Paul Gross, who says things are especially bad for corn growers.
"Just 63% planted with corn compared to last year at 88% and the five year average of 95%," said Gross. "We're behind significantly and we're to the point where it's going to be really difficult to get a crop from anything that's planted at this time."
Some farmers are trying to save the season by switching to other crops, but Gross says that's looking doubtful. He says extreme, abrupt climate change coupled with low prices and trade issues are adding more concerns to already stressed Michigan farmers.
Gross says inability to plant due to wet fields combined with low prices and trade issues are having a big financial impact on farmers. While stockpiles are high from previous years, low yields this season could hit your grocery bill next year with higher meat prices, especially.