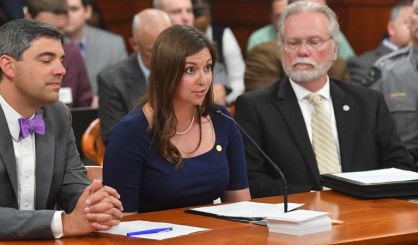 Commercial fishing is not a big business on the Great Lakes, with just six companies fishing in Lake Michigan, but the Michigan Department of Natural Resources says the laws governing the industry need overhauling. Three bills are now before the state House Natural Resources Committee, with one sponsored by Representative Pauline Wendzel of Watervliet regarding nets used by commercial fishing operations.
"Currently, if a net is abandoned or unattended, a conservation officer has no course of action. With this updated statute, a requirement of GPS location of nets is to be reported to the DNR," testified Wendzel before the committee. "Conservation officers would be able to identify the responsible party for an unattended net, and require them to retrieve such gear within seven days."
DNR fisheries director Jim Dexter also testified on the bills.
"Currently, commercial fishing has fines and penalties that date to 1929. $100 is the maximum fine still today," he said. For comparison, Dexter says a recreational fisherman faces a fine of up to $500 for being just one fish over the limit. He added the last updates to the commercial fishing laws were passed in 1971.