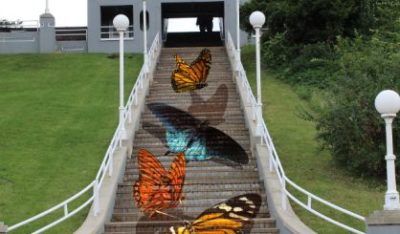 Last year's chalk mural on the St. Joseph Today Welcome Center was so well received, the tourism organization wants to put up a new one this summer. Executive director Amy Zapal presented the idea to the St. Joseph City Commission this week to add a mural to the stairs on the bluff after receiving approval from the Parks Board. The artwork would be seen from the beach instead of from the bluff down toward Lake Michigan.
"From a business standpoint, it would be lovely if people would stand at the beach and look towards our town and engage with it rather than putting their backs to our town and looking outward," said Zapal.
The City Commission gave the green light to the idea. Zapal says the mural will be done using tempera paint and will wash away with rain and weather. The artwork would remain on the stairs for anywhere between a few days and a few months depending on the weather patterns. A design is yet to be decided upon.
Note: The image is from the St. Joseph City Commission packet and represents an idea, not the final design of the mural.