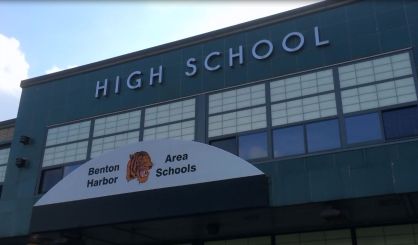 A day after Governor Gretchen Whitmer came to Benton Harbor and defended her administration's plans to close Benton Harbor High School, Mayor Marcus Muhammad has made an apparent call for the Senior PGA Championship to be disrupted. The PGA event is slated to be held at Harbor Shores next May. On his Facebook page Thursday, Muhammad wrote "No High School in the City of Benton Harbor, No Kitchen Aid Senior PGA Tournament in the City of Benton Harbor." He also posted the hashtags WhitmerGetUp, redistribute the pain, and education 1st. Muhammad told The Herald Palladium, "The Facebook post is exactly what it says. If there's no support to keep Benton Harbor High School in the city of Benton Harbor, then there's no support for the Senior PGA, a Steelhead Triathlon or any other grand excursion where people want to come and turn Benton Harbor into a haven for the rich and powerful while the children in the community wallow in hell." The Herald Palladium posted the mayor's response on its own Facebook page.
Whirlpool Corporate Vice President of Communications Jeff Noel has issued a statement to Moody on the Market:
"Given we are not, nor should we be a part of the discussions taking place over the future of the Benton Harbor Area Schools, we can't speculate on the resolution of those discussions and thus comment on the statement made by the Mayor. The KitchenAid Sr. PGA Championship, the 1500 community volunteers who make it a world-class event, the countless folks who visit the area to attend the Championship, the hundreds of media and the world's best senior golfers all look forward to visiting Michigan's Great Southwest every other year and we look forward to welcoming them here in 2020."

Additionally, the Benton Harbor City Commission has scheduled a press conference for Tuesday morning in Lansing to further discuss plans for the high school. Governor Whitmer during a town hall on Wednesday said the school could potentially be re-opened once the situation at Benton Harbor Area Schools is turned around, but she couldn't provide a timetable. Under the state proposal, the high school school would suspend operations following the next academic year.