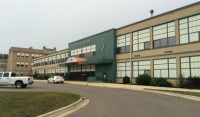 The Benton Harbor Area Schools Board of Education met on Thursday to take care of some housekeeping, but questions linger about what's next for the school district. Speaking with us after the session where the board voted to seek its state aid anticipation note, Vice President Joseph Taylor couldn't comment on Governor Gretchen Whitmer's offer of another week for the board to decide on a proposal to suspend operations at the high school in exchange for debt relief.
"We can't talk about that right now," Taylor said. "We've got the extra week, so we're working on that."
Taylor then said the board can't vote on anything outside of taxes and borrowing as per the district's cooperative agreement with the state. He was asked about plans for replacing soon-to-be-leaving CEO Robert Herrera.
"Normally, the process is to have the assistant superintendent step in, but with the cooperative agreement, in that agreement, the board of education cannot do that without the permission of the SRO office, so that's a wait and see right now."
Taylor said Herrera was expected to be at the board meeting Thursday, but he was not there. Taylor said he didn't know why. Herrera is set to start his new job with Farmington Public Schools on July 1. Also Thursday, the board voted to advise Herrera to renew its contract with its real estate firm, Signature Realty, as the district looks to sell 14 surplus properties.