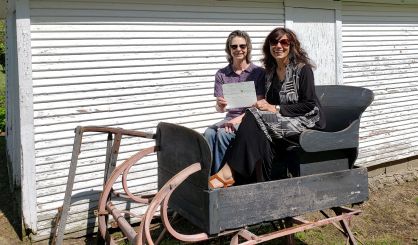 The Pokagon Fund has announced more than $300,000 in grants to organizations around southwest Michigan and northwest Indiana. In total, $313,000 was approved by the Pokagon Fund Board of Directors at the fund's final quarterly meeting of the year. The grants are grouped into the categories of education, poverty reduction, and community vitality. They go to non-profits in Harbor Country as well as Dowagiac and Hartford, and South Bend. Among the grants are $100,000 in Pokagon Fund scholarships, $15,000 to Hartford Public Schools for second and third grade libraries, and $58,000 to the village of Grand Beach for the preservation of 42 acres of forest.
Specific to the fund's Education funding focus, the following grants were approved in May:
United Way of Southwest Michigan — Dolly Parton Imagination Library, $5,000 to increase the total number of Harbor Country children who receive 12 books delivered to their home each year and $4,000 to provide school supplies for Dowagiac elementary students
Three Oaks Township Public Library — $2,676 to expand the Little Free Libraries program throughout the village
River Valley School District — $27,000 to provide Summer Day Camp, which includes the summer reading enrichment program;
2019 TPF Scholarships — $100,000 to support high school and adult postsecondary education;
South Bend's Center for the Homeless — $6,414 to enrich after-school programming and provide summer field trips for homeless children;
Hartford Public Library — $2,500 to underwrite their Summer Reading Program;
Hartford Public Schools — $15,000 to build classroom libraries for students in 2nd and 3rd grades;
Van Buren County Historical Museum — $5,000 for educational workshops.
With regard to the fund's poverty reduction funding focus, the following grants were approved:
South Bend's St. Margaret's House — $20,000 to underwrite the SELF (Safety, Emotions, Loss and Future) program and provide food items for homeless women;
South Bend's CASIE Center — $10,000 to provide truancy prevention educational programming to families;
South Bend's Camp Millhouse — $20,000 to support renovation efforts;
South Bend's Upper Room Recovery Community — $10,000 to support women in rehabilitation.
Lastly, specific to the fund's community vitality funding focus, the following grants were approved:
Village of Grand Beach — $58,000 to preserve 42 acres of forest lands as a preserve;
New Buffalo Township Library — $7,000 to update videoconferencing technology in the Pokagon Room;
Southold Dance Theater — $15,000 to underwrite the Harbor Country Nutcracker;
Hartford Area Chamber of Commerce — $1,500 to increase the children's activities at the Strawberry Festival 2019;
Michigan State University Youth Development — $500 to support ACORNS Youth Program.