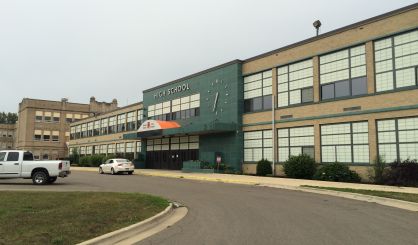 As the Benton Harbor Area Schools Board of Education prepares for a fight to keep the district's high school open, one observer is Thomas Pedroni, an associate professor in curriculum studies at Wayne State University. He tells WSJM News he has studied the struggles of Michigan school districts for 15 years, and is surprised the Whitmer administration is taking the same path as others in the past and so quickly. Pedroni points to Highland Park, where he says the high school was also closed. He talks regularly with people in that community.
"When kids are dispersed in this manner, it has a very negative impact on the community," Pedroni said. "As I'm sure you've seen in Benton Harbor and maybe some of the surrounding communities, there's a great sense of identification with the high school. It has a lot of meaning in the community."
Pedroni has his own suggestion for how the state should handle Benton Harbor Area Schools.
"It should absolutely recognize the importance of local autonomy over the school district, it should fully partner with the Benton Harbor Area Schools Board, which is the elected representation of the people of Benton Harbor Area Schools."
Pedroni says local school officials in Benton Harbor aren't even to blame for the district's problems, telling us the real causes have been Proposal A and the creation of charter schools. He thinks it's contradictory that state leaders would blame locals for Benton Harbor's situation when the state has had control of the district in one form or another for several years.