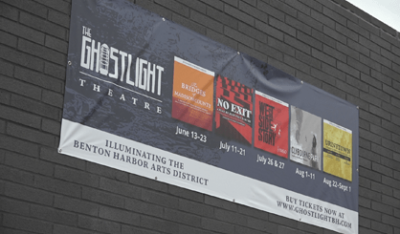 The new Ghostlight Theater in Benton Harbor is getting ready to open for its first season. The black box theater at 101 Hinkley Street held a media day last week to show off to the public what's coming. Co-founder Paul Mow tells us after a career in theater, it's a dream come true to open a new venue in Benton Harbor.
"I've been working in and around the Benton Harbor Arts District for over a decade now, and to be able to have something happen right here next to the Citadel Dance and Music Center and add to the climate and to the Arts District in general has just been a dream of mine for a long time," Mow said.
The Ghostlight bought the formerly unoccupied building last year, and a fundraising campaign has made renovations possible. In addition to the four plays they're planning to stage this summer, the theater is intended to serve as a venue for recitals, cabarets, workshops, classes, banquets, and other community events. The opening night will be July 13, and Mow says people can support the Ghostlight by buying subscriptions now. The opening show will be The Bridges of Madison County, a musical based on Robert James Waller's 1992 novel. You can find out more about the theater right here.