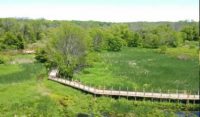 The public will have another chance next week to weigh in on the Berrien County Parks Department's plans for the next few years with two open houses next week. Berrien County Parks Director Brian Bailey told WSJM News earlier this spring the department is working on its master plan for 2020 through 2024. The plan outlines what developments could be coming to Rocky Gap, Silver Beach, Love Creek, Madeline Bertrand, Paw Paw River, Historic Courthouse Square, and Galien River County Parks.
"It gives us some ideas as far as what we would like to see done and improved," Bailey said.
Bailey told us then there would be a series of open houses throughout the year. Two are next Wednesday at Madeline Bertrand County Park in Niles. Parks department staff will be there with presentations on the parks, and anyone can offer their thoughts. The first open house next Wednesday will be from 3 p.m. to 4:30 p.m. The other will be from 7 p.m. to 8 p.m.