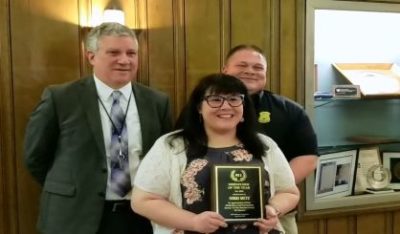 Berrien County's 911 Dispatcher of the Year is Nikki Metz of the Niles Police Department.
At Thursday's meeting of the Berrien County Board of Commissioners, Metz received the award for her role in helping to identify a counterfeiting suspect this past winter.
"It feels nice to be recognized for something you do every day, without being asked for recognition," Metz said.
Metz told us she's been a dispatcher since 2011. Her mother and grandmother were also dispatchers. Berrien County has a total of 33 dispatchers, 13 were nominated for the Dispatcher of the Year Award.