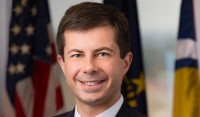 South Bend Mayor Pete Buttigieg has raised $7 million in the first quarter toward a possible presidential run.
"We wanted to see what that first quarter was going to be like, to be honest," Buttigieg tells our news gathering partners at WSBT 22. "My initial thought as we were deciding what our goal should be was I hoped we could get to one-million dollars in that first quarter. We've blown those expectations out of the water, the country is taking note, and it was one of the last things I wanted to see before we were ready to move ahead. Things are getting pretty close, but I'm not ready to make any news as we're sitting here right now."
Buttigieg has surged in the polls over the last few months after first being called the "longest of long shots" by David Axelrod, who was the architect of former President Obama's 2008 run to the White House.