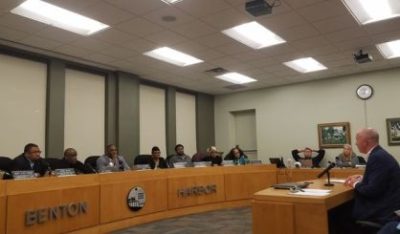 Benton Harbor City Commissioners have signed off on plans for an apartment development downtown.
At a Monday meeting, the city commission approved the establishment of an Obsolete Property Rehabilitation District and a 12-year tax break for Cressy Commercial Real Estate to redevelop the Harbor Center building at Pipestone and Main Streets.
The plan is to invest $2.5 to $3 million in turning the building into 14 apartments and two commercial spaces. Mayor Marcus Muhammad said the vacant building is currently dilapidated.
"I toured the building, and I probably should have gone to Spectrum [Health Lakeland] right afterward due to the toxins and just the horrific conditions," Muhammad said.
Following Monday's action, the property's taxes will be frozen at their 2019 level for 12 years for the developer to recoup costs. Up next, the project needs approval from the Michigan Economic Development Corporation. Work could start in May or June.