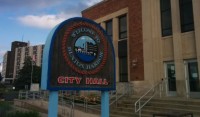 Benton Harbor residents are being asked to speak up when they see someone illegally dumping trash in the city. At this week's city commission meeting, Benton Harbor Public Safety Director Dan McGinnis said enforcement to crack down on the issue is increasing.
"We're going to be asking the citizens to help us," McGinnis said. "We're going to go door to door in super-affected areas with a dumping contact number, a tip line."
McGinnis said tires and mattresses are a particular problem.
"I think people are fed up with the dumping," McGinnis said. "Our town looks absolutely atrocious. We want to clean it up. We're committed to it."
McGinnis said he's meeting with the Michigan Department of Environmental Quality next week to see if they can help find the source of some of the tires. Anyone with a tip can call the department of public safety.