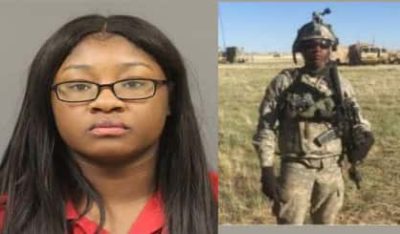 The murder trial for the widow of US Army Sergeant Tyrone Hassel III and her lover will start April 30 in St. Joseph. Kemia Hassel is accused of using Snapchat to plan her husband's murder and sending boyfriend Jeremy Cuellar to St. Joseph Township while they were all on leave over the New Year's holiday to carry out the killing. Army Specialist Jaquan Hamilton testified yesterday that Cuellar admitted to the crime.
"He said he caught him coming out the house and then he shot him in the head, he dropped and then he shot him again," testified Hamilton.
St. Joseph Township Police Officer Michael Lanier testified yesterday about his interview with Kemia.
"At first, she admitted there was no type of relationship between her and Jeremy Cuellar, then admitted there was an ongoing sexual relationship with him," said Lanier. He added she admitted to leaning on Cuellar when she had problems at home.
Hassel was killed outside his parents' home while bringing his wife food from a New Year's Eve gathering in Benton Harbor. All three were stationed at Fort Stewart, Georgia. Cuellar and Hassel have entered not guilty pleas and have a case conference scheduled for March 18. They are held without bond in the Berrien County Jail.