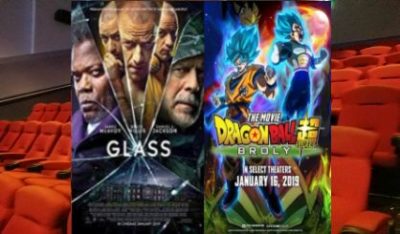 Flick Pick – Weekend Box Office Preview
Flick Pick is a podcast about movies. In today's episode, Andrew Green and Jacob Holmes discuss the new movies available this week at the cinema. We've got two this time around. First up is Glass, the new M. Night Shyamalan film. Starring Bruce Willis, Samuel L. Jackson, and James McAvoy (Andrew's favorite actor), Glass is about a security guard who uses super powers to track down a dangerous man with several personalities.
Up next is Dragon Ball Super: Broly. It's an anime film that Jacob wants to talk about.
Andrew and Jacob will also discuss the movies the two of them have most recently seen.
Scroll down and click the Play button to hear the podcast.
Click here to listen to additional episodes of Flick Pick.
Podcast: Play in new window | Download | Embed
Subscribe: Apple Podcasts | Android | Email | Google Podcasts | Stitcher | Spotify | RSS | More