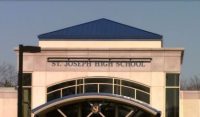 An anonymous tip about what St. Joseph Public Safety calls a "potential threat of harm" at St. Joseph High School has turned out to be inaccurate and unfounded. Interim public safety director Steve Neubecker says in a statement they received the call around 4:30 a.m. Tuesday and responded along with Michigan State Police and the Berrien County Sheriff's Department. He adds after multiple interviews, they determined there was no credible threat.
In an email to parents, principal Greg Blomgren says the threat contained the topics of weapons and school shootings. He adds after more investigation, it turned out to have been a conversation on a topic "that is not appropriate at school without the direction and supervision of staff." Blomgren is asking parents to take time to talk with their kids about the top of weapons and school shootings and remind them it's not appropriate even among friends, as it can cause anxiety, alarm and disruption to the school.
This story has been updated to add the information from the email to parents.