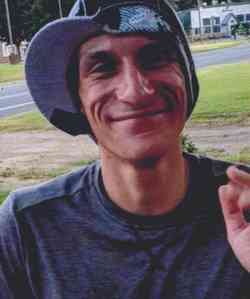 Andre R. Machado, 33, of Coloma, passed away on January 7, 2019.
Cremation has taken place. A memorial service will be held at 12:00 p.m. on Saturday, January 19th at Red Arrow General Baptist Church in Benton Harbor. Arrangements have been entrusted to Duffield & Pastrick Funeral Home, Coloma.
Andre was born January 18, 1985 in St. Joseph to Ralph and Barbara (Watson) Machado.  Andre loved his family and spending time with his babies. He had a passion for reading, always having a book in his hand, was outgoing and always spoke his mind. Andre was very warm hearted who loved animals and everyone he met.
Andre is survived by his wife Randi Lynn and their children Enrique, Kyleigh Ann and Anthony Edward Machado and Anne Marie Brant. He is also survived by his parents Ralph and Barbara Machado, mother and father in law Rhonda and John Brant, grandmother in law Mary Hamilton and numerous aunts, uncles, cousins, brother and sister in laws and a nephew.
He is preceded in death by his maternal grandparents Raymond and Sarah Watson, paternal grandparents Enrique and Maria De La Luz Machado and grandfather in law Clarence Hamilton.
Posted On: Thursday, January 10, 2019 2:56 PM