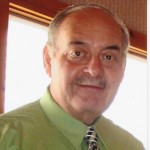 February 27, 1952 – January 6, 2019
Dennis V. Martus, 66, of New Buffalo, MI passed away at his residence on Sunday, January 6, 2019. Arrangements have been entrusted to Sommerfeld Chapel – 15 N. Barton St., New Buffalo, MI.
Dennis was born on February 27, 1952 in Chicago, IL to the late Victor and Mildred (Victor) Martusevich. On July 5, 1975, in Chicago, IL, he married Kathleen Sewnig. Dennis retired in 2004 from the Chicago Fire Dept. as a paramedic commander, after app. 35 years of service. He was an active member of the Blue Island Showcase Theater; a boy scout leader of troop #773 in Chicago; a 4th degree Knight's of Columbus; an usher at St. Mary of the Lake Church in New Buffalo; and well known for being patriotic and his outdoor displays at the Fourth of July as well as Halloween. Dennis was a loving husband, father and grandfather.
He is survived by his wife Kathleen; children – Julie (Paul) Porento of Lowell, IN, David (Jennifer) Martus of Dyer, IN and Michael (Jennifer) Martus of Dyer, IN; grandchildren – Kaylee, Grace, Connor and Callie; sister – Janet (Tim) Tintor of Highland, IN; mother and father-in-law – Dorothy and David Sewnig; several brother and sister-in-laws as well as aunts, uncles, cousins and many friends. Dennis is also preceded in death by his grandson – Zachary.
Mass of Christian Burial will be held on Thursday, Jan. 10, 11:00 A.M. (EST) at St. Mary of the Lake Church in New Buffalo, MI with Father Dan Hyman officiating. Burial will follow at Pine Grove Cemetery in New Buffalo. Visitation with the family is on Wednesday, from 3:00-8:00 P.M. at Sommerfeld Chapel in New Buffalo. In lieu of flowers memorial contributions may be made to St. Mary of the Lake Church. Friends wishing to leave the family a message of condolence may do so at www.sommerfeldchapel.com
Posted On: Tuesday, January 8, 2019 2:56 PM