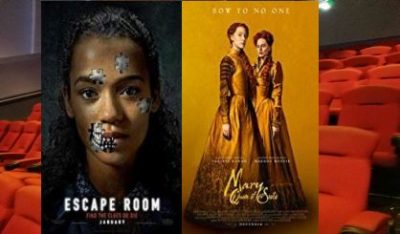 Flick Pick is a podcast about movies. In today's episode, Andrew Green and Jacob Holmes talk about the latest films to open in Benton Harbor. This week, we've got two of them. It's Mary, Queen of Scotts and Escape Room. Mary, Queen of Scots is an Oscar bait film with Saoirse Ronan and Margot Robbie. It's about royal shenanigans. Escape Room is a PG-13 rated Saw ripoff.
Andrew and Jacob will also tell us all about the latest films they've seen. Jacob checked out the new Mary Poppins, while Andrew has seen Aquaman, Bumblebee, Can You Ever Forgive Me, and Vice. Scroll down and click the Play button to hear the podcast.
Click here to listen to additional episodes of Flick Pick.
Podcast: Play in new window | Download | Embed
Subscribe: Apple Podcasts | Android | Email | Google Podcasts | Stitcher | Spotify | RSS | More