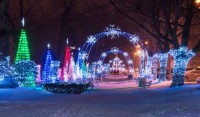 Over one million lights will be glowing in downtown St. Joseph starting tonight.
It's the annual Light up the Bluff celebration along with the city's Community Tree Lighting Ceremony. Everything starts at 6 p.m.
"Immediately following that, our inaugural holiday window decorating contest, called Live from Downtown, from 7 to 8:30, and that's basically going to be on State Street," said Danielle Crevier, business and marketing manager for St. Joseph Today.
New to the evening's events is Live from Downtown, the successor to the former Live Mannequins event in St. Joseph.
"You can actually vote for your favorite window in our people's choice poll on the St. Joe Today Facebook page," Crevier said.
The lights on the bluff will be on every night through Valentine's Day.