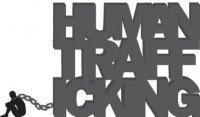 Michigan State Police say their efforts to identify and rescue victims of human trafficking in southwest Michigan are ongoing after five victims were recovered over the weekend. Detective-Lieutenant Shane Criger tells WSJM News the five victims police picked up had been forced into prostitution.
"These were people mostly from southwest Michigan, from Battle Creek, maybe just north of Kalamazoo into the Kalamazoo area," Criger said.
State police found the women online, and used undercover officers to recover them this past weekend. From there, other agencies provide the women with help.
"We asked them to meet at a location we had planned, and in terms of the rescue component, we had Victims Services from the Kalamazoo County area and the YWCA on board that took them and provided services," Criger said.
Criger says there were no arrests as part of the effort as of Monday afternoon, but some could still come. The five victims picked up during the weekend were among 20 potential victims initially identified. Criger says the anti-human trafficking effort will continue, and asks anyone who suspects the crime to notify police. He tells us some signs of human trafficking are someone living in a hotel room with frequent male visitors, or someone who frequently has someone else speaking for them.