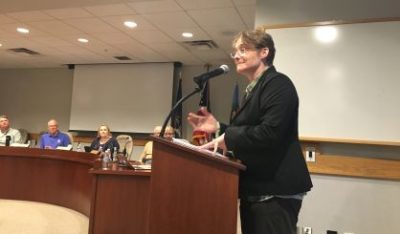 The St. Joseph City Commission is looking into becoming the 45th local government in Michigan to enact its own anti-discrimination ordinance to protect the LGBTQ community, as efforts in the state Legislature to expand the Elliott-Larsen Civil Rights Act to that end have fallen short for decades. Commissioners heard from OutCenter Executive Director Mary Jo Schnell last night, who urged them to look into the issue.
"We're here because we need your help protecting our community members in St. Joseph from discrimination," Schnell said. "We need your help because discrimination is happening here and has horrible, horrible impacts for LGBT people, their families, and the communities in which they live."
Commissioner Jeff Richards called on the city to take the lead in the area.
"I think we can do this; I think if we're going to do something like this, we're doing to do it correctly," said Richards. "We're going to set the bar high, and will be a good example for the surrounding communities to join us."
Mayor pro tem Laura Goos got emotional in her comments, noting transgender students at St. Joseph High School could use the protections.
"At St. Joseph High School, there are trans kids, and they don't have anyone to go to. They're looking at the adults. They want to see what we're going to do," said Goos, noting transgender students at the school don't have a dedicated bathroom.
Schnell said adopting such an ordinance can be an economic engine for the city, noting they've worked hard on public acceptance with training for Bridgman Public Schools and Spectrum Health Lakeland on LGBTQ issues. She added businesses with inclusive policies are better able to attract top talent, which has been proven locally by Whirlpool. On the other side of things, Schnell also gave stark stats, such as 44% of homeless children are LGBTQ kids who have been disowned by their families, and LGBTQ kids are 8.4 times more likely to attempt suicide.
The city commission did not take action on the idea, but will study an ordinance template from the Michigan Civil Rights Commission and bring it forward for a vote in the coming months.
Photo: The OutCenter's Mary Jo Schnell addressing the St. Joseph City Commission Monday night.