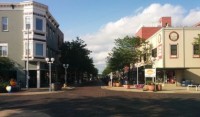 There will not be any public art on the sidewalks in the city of St. Joseph next year. The program is being paused for a year, partly due to the retirement of communications director Susan Solon, and partly because she says it's been successful in bringing people and families downtown and helping to fill storefronts that had been empty when it began as an economic development tool 15 years go.
"My problem is I can't share with them the measure of it's success," Solon said after the meeting, noting there are no solid numbers to show how much of an economic impact the artwork has had on downtown. Regardless, she said she's very proud of what's been done with the art project since it launched in 2004.
"The reason we started public art is because a quarter of the storefronts were vacant in the winter months. In fact, we had vacancies in the summertime as well," Solon told the city commission. The decision to put the project on hold for at least a year followed a lengthy discussion between Solon, the commission, and members of the public including one retailer who didn't want to see it go away.
The city commission agreed to put the program on hold for at least next year, and decide as part of the master plan work if it will return. Solon notes the auction of the art pieces at the end of the summer never recouped the $75,000 spent on the art, but notes the city commission never intended for that to be the case. This year's art will be sold on September 22.