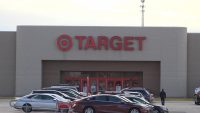 Cornerstone Alliance is making an aggressive push to bring more retailers to Benton Township. Cornerstone President Rob Cleveland tells WSJM News the group has hired The Retail Coach, a national retail recruitment and development firm, hoping to get some spaces filled along M-139 between I-94 and Napier Avenue.
"There have been developers who have invested their own money into improving that area, and there's available real estate," Cleveland said. "We're expecting the partnership with the Retail Coach will help match nationally-recognized retailers with that retail space."
Cleveland says the Fairplain Plaza is a big focus. The Target closing leaves a large space that could be filled with multiple retail shops.
"The Target closing definitely was a driver, and filling that space is a primary focus right out of the gate in our partnership with the Retail Coach," Cleveland said."
Cleveland says The Retail Coach will do a study on the area's shopping needs and patterns, and then use that information to court national chains. He says Cornerstone plans to start knocking on doors in the fall.