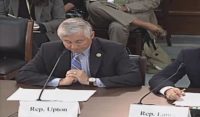 The local response to the PFAS contamination in Parchment and Cooper Township in Kalamazoo County is getting high marks from Congressman Fred Upton. He tells WSJM News when the harmful chemical was detected at high levels in the water there, the locals acted quickly to solve several problems.
"How to inform the residents, being able to work on a system that would be able to deliver thousands of cases of water literally within hours, setting up a distribution system to allow that to happen, a security system to make sure it's safe, and seeing two cities really work together," Upton said.
Parchment is now being served by the water system in Kalamazoo. Upton said more tests remain, but relief is coming. He expects the House Energy and Commerce Committee to hold a hearing after Labor Day in the PFAS situation. He also credits an order from the Snyder administration that all Michigan water systems be tested for PFAS with detecting the problem in Parchment.