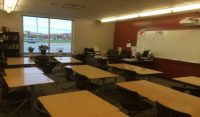 The Michigan Retailers Association says back-to-school sales numbers are expected to be strong, just like last year when $83 billion was spent nationwide. The Association's Meaghan Holland expects sales to be near a record high this year.
"People are shelling out money for back-to-school, mainly for clothing and accessories," she said. "The general merchandise stores are doing really well, and it's been positive."
So far this year, 43% of Michigan retailers say sales are running ahead of projections, and 20% say they're on target. The projection is parents will spend $82.8 billion this year for back-to-school.