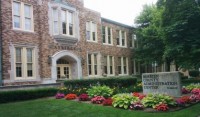 The Berrien County Land Bank is hoping to close a deal soon with a buyer for the vacant Alreco industrial property in Benton Harbor. Berrien County Treasurer Bret Witkowski tells WSJM News the land bank has received two offers from medical marijuana producers for the 11 acre site on Alreco Road. They are the Harvest Group out of Okemos, and NoBo Partners out of Colorado. The Harvest Group has already secured support from the city of Benton Harbor to buy the site, but has not moved forward.
"We have to sell it to the highest bidder," Witkowski said. "That's our philosophy, with the best operation, and we want city approval. That has happened. The challenge has been getting things to move forward, to put money down on it, to get a closing date."
Witkowski says the Berrien County Land Bank voted this week unanimously to push the two groups to come forward with a $20,000 deposit.
"Both of those groups have offered $450,000, and so we've given each of those groups ten days to come up with the money, agree with the purchase date, and have a letter from the city in support of that project," Witkowski said.
Witkowski isn't sure why Harvest Group has not made the deposit payment, but he thinks it could be related to uncertainty with a marijuana legalization ballot question coming to voters in November. He says there's also a third company offering to buy the property, but the land bank is waiting on the two medical marijuana outfits to move forward. He says it's because he third potential buyer is more speculative in nature.