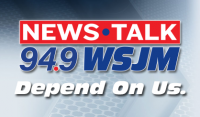 It may have been a record short meeting for the Benton Harbor Area Schools Board of Education. 
Upton thinks Brett Kavanaugh will be "U.S. Supreme Court Justice Brett Kavanaugh" by October. 
A big investment in Van Buren County. 
Malware — it's not just for your computer anymore. 
The U.S. Forest Service has saluted a Paw Paw-area nature preserve. 
New figures in on jobs showing millions of people are QUITTING. 
A close call as the cave rescue operation wrapped up in northern Thailand.
Podcast: Play in new window | Download | Embed
Subscribe: Apple Podcasts | Android | Email | Google Play | Stitcher | RSS | More