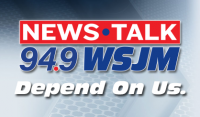 The man charged with killing his ex-girlfriend and her father near Coloma in 2016 is going to spend 40 to 60 years in prison. 
The Auction has ended on the Orchards Mall. 
A warning is going out from the Berrien County Sheriff's Department about a possible phone scam or fraud. 
The 2018 Heart of Cook grants have been announced. 
The Federal Reserve has announced its raising interest rates. 
An off campus party near Grand Valley State University in Allendale turns into a shooting. 
The nation's capital is capitalizing on catching drivers caught in the red light camera's eyes. 
Antarctica is considered a key indicator of climate change–and the melting of the frozen continent is speeding up.
Podcast: Play in new window | Download | Embed
Subscribe: Apple Podcasts | Android | Email | Google Play | Stitcher | RSS | More