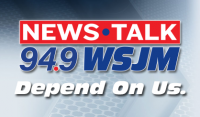 The Benton Harbor Area Schools Board of Education is pursuing legal action against former football coach Elliot Uzelac and former Superintendent Shelly Walker. 
Berrien County Treasurer Bret Witkowski is seeing an increase in the amount of property taxes his office can collect since the closure of a loophole last year. 
Congressman Fred Upton is encouraged by President Trump's meeting this week with North Korean leader Kim Jung Un. 
The senior population is the United States is growing rapidly and unfortunately, funding for senior services has not kept up. 
The Al-Van Humane Society received some great news. 
The Federal Reserve is expected to announce an interest rate hike today. 
Singaporeans..reflect…a day after the historic U-S and North Korean summit. 
President Trump is hitting back at Robert De Niro.
Podcast: Play in new window | Download | Embed
Subscribe: Apple Podcasts | Android | Email | Google Play | Stitcher | RSS | More