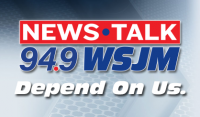 Elliot Uzelac has had enough with the turmoil in Benton Harbor schools.
A shooting incident at the Cosmo Extended Stay motel in Sodus.
More than three inches of rain in just a few hours Saturday caused huge problems in Cass County.
A Paw Paw man is planning a massive endurance bicycle ride to raise money for childhood cancer research.
If you have purchased pre-cut melons from Wal-Mart, you're being urged to throw that food out.
The OutCenter in Benton Harbor is gearing up for its Lake Effect Pride party.
Israeli leaders are turning their gaze to Singapore.
The President called Canadian Prime Minister Justin Trudeau "dishonest" and "weak".
Podcast: Play in new window | Download | Embed
Subscribe: Apple Podcasts | Android | Email | Google Play | Stitcher | RSS | More