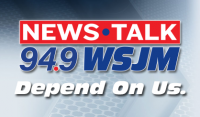 BHAS trying to consider how to use properties and sell the vacant ones. 
Michigan State Police want to know the identity of a woman found nearly 30 years ago. 
The Krasl Art Center is installing a new sculpture. 
A "No Vote" from top Lawmakers on legalizing marijuana. 
Ex MSU President on the hot seat.   
14 years later, Incredibles 2 is almost here.
Podcast: Play in new window | Download | Embed
Subscribe: Apple Podcasts | Android | Email | Google Play | Stitcher | RSS | More