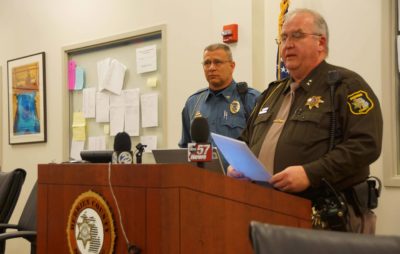 Three people are dead following a chase with police in Berrien County on Sunday morning.
The Berrien County Sheriff's Department tells WSJM News it all started shortly after 5 a.m. when dispatch got a call about a break-in to the Black Arsenal Gun Store in Stevensville. The caller gave a description of a gold SUV that left the scene toward Red Arrow Highway, and just before 5:30, a sheriff's deputy patrolling eastbound I-94 near mile marker 27 spotted a vehicle matching the description of the SUV.
The deputy activated his lights to pull the SUV over and a chase began, taking them to southbound M-139. The fleeing SUV went off the road north of Rockey Weed Road and crashed into a large tree. Of its four occupants, three were killed, and one was taken to Lakeland Hospital in critical condition.
The Berrien County Sheriff's Office has requested the Michigan State Police to conduct the investigation into the crash. As is standard procedure, the deputies involved in the chase have been placed on paid administrative leave pending the outcome of the investigation. The names of the deceased have not been released.
*Photo courtesy of moodyonthemarket.com*