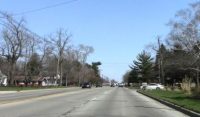 The Southwest Michigan Planning Commission would like to hear more from the public about what is wanted for Napier Avenue as it drafts a report ahead of the road's repaving starting next year. Planner Ryan Fellows tells WSJM News about 40 or 50 people showed up to an open house on the subject last week.
"A lot of people were saying how they just didn't feel very safe trying to walk or bike along the corridor," Fellow said.
Fellows tells us the Southwest Michigan Planning Commission report will be handed off to the relevant agencies before the repaving project begins.
"It'll not just be for the Berrien County Road Department, but also for St. Joe Township and Benton Township," Fellow said.
Fellows says the planning commission is considering options for pedestrians and bicyclists as it studies Napier between the St. Joseph River and I-94. The next meeting for the topic to be discussed will be May 21 at Napier Parkview Baptist Church from 4 to 7 p.m. He also asks folks to take a survey at NapierAvenue.org.