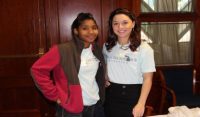 A program that works with young people in southwest Michigan has received a $250,000 grant to expand its operations. Youth Solutions, Incorporated is part of Kinexus and an extension of the Jobs for America's Graduates program. Director Kristin Harrington tells WSJM News Youth Solutions pairs kids with mentors, working in Benton Harbor, Hartford, and Dowagiac schools to make sure those kids graduate.
"We were selected by America's Promise Alliance for this grant because we have such demonstrated progress in making an impact on the graduation rate," Harrinton said. "Last year, from the class of 2016, of the students were served, 98% of them graduated."
Harrington tells us the young people deal with a variety of obstacles.
"For example, some of our young people face homelessness, pregnancy or parenting young people themselves, foster care status, and even being behind in school," Harrinton said.
Harrington says Youth Solutions has learned the relationships the young people develop with their mentors is the main thing that can keep them on track. The $250,000 grant for Youth Solutions is from the GradNation campaign and AT&T. Harrington says it will enable Youth Solutions to reach more kids.