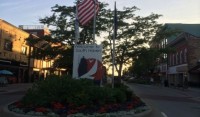 It's Warm Your Heart Month in South Haven with the 18th annual Island Sit at the Phoenix Street Welcome Island set for February 24. We Care's church partners, community organizations, and area businesses are joining forces to raise funds for people in need of heating bill help, food, medical supplies and more. Rosalie Plechaty of We Care told WSJM News about some ways you can help raise funds.
"We welcome everything from a bake sale to a soup luncheon to a blue jean day at a company," Plechaty said. "We'll come in with our messaging and we'll educate folks. Every dollar counts and it really does add up. This has always been a successful event for WeCare."
The Island Sit will be broadcast on 103.7 Cosy FM from 7 a.m. to 7 p.m. on the 24th.