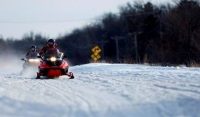 Friday's winter storm sweeping through southern Michigan is expected to dump six to eight inches in some areas by the time it's all done. Mlive Meteorologist Mark Torregrossa told Michigan News Network there are two more waves of snow coming this weekend.
"It's a one to two inch snow on Saturday…and that it's a one to three inch snow on Sunday," Torregrossa said.
Torregrossa says the cold temperatures will make for treacherous road conditions, and it is best to stay at home if possible. The National Weather Service reports as of early Friday afternoon, 9 inches had fallen in Bridgman.